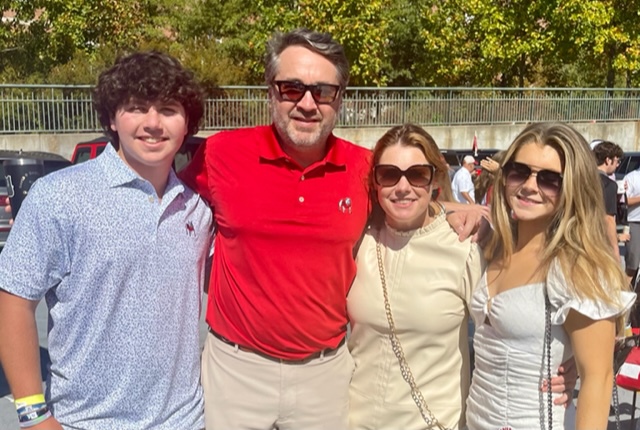 Surname: Lauren Alexander Koontz
Family: Brad Koontz (Grady College of Journalism – 1995); Kate Koontz (Elon University – freshmen); Sam Koontz (The Mount Vernon School – sophomore); Ricki Bobbi (yellow Lab) – I lost a bet to my husband on her name!
Hometown: St Simons Island, Georgia
Current City: Atlanta, Georgia
Which years at UGA: 1992 – 1996
School/degree: Terry College of Business, BBA
Profession: President and CEO of the Metro Atlanta YMCA, I have the privilege of leading one of Metro Atlanta's largest (and oldest!) nonprofit organizations. Founded in 1858, Y is committed to communities where everyone belongs and that build a healthy mind, body and spirit.
In 2022, Lauren was recognized by the Atlanta Business Chronicle as one of Atlanta's Most Admired CEOs. In 2020, Lauren was named one of Atlanta Magazine's Women Making a Mark.
A book: All books by Amor Towles – Rules of Civility (1), A Gentleman in Moscow and The Lincoln Highway. These novels will stay in your memory for years.
Magazine: Garden & Gun, Vanity Fair.
Podcasts: The Daily, you must remember, Smartless.
Instagram: @empireskyco – beautiful photographs and drone footage of St Simons Island and the Golden Isles. (2)
Brand: The Coca-Cola Company – Is it getting more iconic? You are the original Atlanta corporate citizen forever.
Fashion designer: Marie Oliver, Lilla P, Tuckernuck (3)
Interior architect: Jessica Bradley Interiors. She is so incredibly talented! (4)
Cook: Anthony Bourdain – I love how he used food and culture to expand our minds and perspectives. (5)
Historical figure: It's so hard to say that Vince Dooley is a historical figure now, but of course he's a legend. I had the opportunity to read alongside him to YMCA PreK students at the Georgia Capitol a few years ago and it was an honor!
Quote:
"Pour yourself a drink, put on some lipstick and pull yourself together"
– Elizabeth Taylor
Describe Athens in five words or less: Where you grow into yourself.
Restaurants and bars: I may miss our old-school spot, Gus Garcia's, but you can't beat Georgia Theater's rooftop bar – drinks overlooking downtown Athens!
Businesses: Heery's, Monkees of Athens, Onward Reserve
Landmark Athens/Campus: The Steeple, where REM played their first concert in 1980.
Memories from school: Meeting my husband on the back porch of Sigma Nu's old house on River Road; Laugh 'till my sides hurt with my Theta Pledge sisters.
Professor/Class: Chemistry 101 Freshman Year with Professor Ken Whitten. I quickly learned that Pre Med is not my future!
Ritual/plan on game day: Walk through downtown and then North Campus to John Straughan's tailgate in the Tate Center parking lot, where you'll most likely hear glimpses of the game from former UGA player Kevin Butler!
Tailgate Recipe: I cheat! I pick up LadyFingers Shaved Ham Biscuits from Lucy's Market in Atlanta or Uncle Don's on St. Simons to take to a tailgate!