CHAPEL HILL, NC — Life on the fringes once again, and this time North Carolina reeled in stunning failure. The 13th-place Tar Heels couldn't outlive Drake Maye in his most mortal form and couldn't put away the wounded Georgia Tech, who rebounded for a shock 21-17 win at Kenan Stadium on Saturday.
UNC gambled away a 17-0 lead and failed to come from a second-half deficit for the fifth game in a row. And for once, the Tar Heels didn't have star quarterback Maye at a level worthy of his Heisman Trophy candidacy.
Everything tumbled around the Tar Heels (9-2 overall, 6-1 ACC) during a second-half shutout. Josh Downs dropped the potential go-ahead touchdown catch in the end zone on a critical fourth down, UNC's final attacking play, and the Tar Heels, who were on a six-game winning streak, were soon stuck with their first ACC loss.
Georgia Tech (5-6, 4-4) exhausted the final 4:10 of the game from there, converting three straight third losses to clear the clock. On defense, Georgia Tech sacked Maye six times while amassing 12 tackles for losses against UNC.
Maye arrived as the national leader with 34 touchdown passes in the season. He didn't throw for a score Saturday and finished 16-of-30 passing for 202 yards. The Yellow Jackets beat Maye late in the third quarter, one of several scoring chances gone awry for UNC, the ACC's No. 1 leading scorer (40.1 points per game), who was struggling with a season low.
Hassan Hall's 6-yard touchdown rush early in the fourth quarter gave Georgia Tech the lead to stay at 21-17, the third unanswered result for the Yellow Jackets. Georgia Tech used third-stringer Zach Gibson and fourth-stringer Taisun Phommachanh as quarterbacks due to injuries.
Georgia Tech lead receiver Nate McCullom (upper body injury) was also out. He had put up 100-yard efforts in each of the last two games.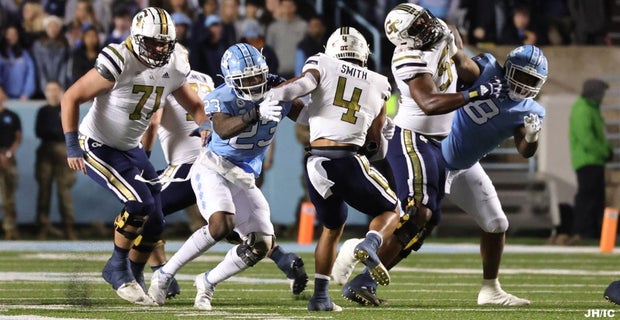 Boom out the gate
Green's 80-yard touchdown burst on North Carolina's first play on Saturday started with a big bang and delivered the team's longest run of the season, surpassing Caleb Hood's 71-yard rush in early September at Appalachian State.
The Georgia Tech safety angle that LaMiles Brooks chose couldn't explain Green's speed. He sped away while Brooks and colleague Clayton Powell-Lee gave chase.
Green added a 1-yard score late in the first half to give a 17-0 UNC lead. That was his eighth touchdown since his breakout break on Oct. 15 at Duke.
Tar Heels miss the shutout in the first half
Running in third with Kaimon Rucker stuffing Georgia Tech, Storm Duck comes in with an interception of Phommachanh and DeAndre Boykins making plays, the UNC defense was able to record its first shutout in the first half of a game this season.
But the Tar Heels left Hassan Hall uncovered in the backfield, and his 36-yard catch and run put the Yellow Jackets on the UNC 5-yard line. Dontae Smith's short touchdown run put Georgia Tech on the board with 48 seconds remaining in the first half and cut the Tar Heels' lead to 17-7.
Running backs in the mix
George Pettaway's 11-yard catch from the backfield in the final minute of the first half was his first reception since UNC's loss to Notre Dame in late September and meant the Tar Heels had touched four running backs before Saturday's game the reached halftime.
Green had handled all rushing attempts for UNC's running backs in the last two games, victories in Virginia and Wake Forest. But Omarion Hampton rushed for 35 yards five times, and DJ Jones added a rush and reception. Hampton hadn't had a carry since beating Pittsburgh on Oct. 29.
Next on the agenda
North Carolina stays at home to play rivals NC State (7-4, 3-4), the final regular season game of the season at Kenan Stadium and a matchup for a national audience on ABC the day after Thanksgiving. The Tar Heels can climb to 10 wins in the season. The Wolfpack lost back-to-back games with Saturday's 25-10 loss in Louisville.