THE FLATS – Georgia Tech women's basketball will travel to the Sunshine State over the Thanksgiving holiday for Gulf Cast Showcase 2022 in Estero, Fla. The three-day, eight-team field, November 25-27 tournament will be played at the Hertz Arena. The Yellow Jackets open the tournament on Friday at 7:30 p.m. against South Florida.
GEORGIA TECH (3-1, 0-0 ACC) vs. SOUTH FLORIDA (6-0, 0-0 Americans)
TV: FloHoops| View online (subscription required)
Play by Play: Jon Gross | Analyst: Amber Bepko | Side job: Walter Grunner

RADIO: Georgia Tech Yellow Jackets app
Play by play: Richard Musterer
LIVE STATISTICS: Click here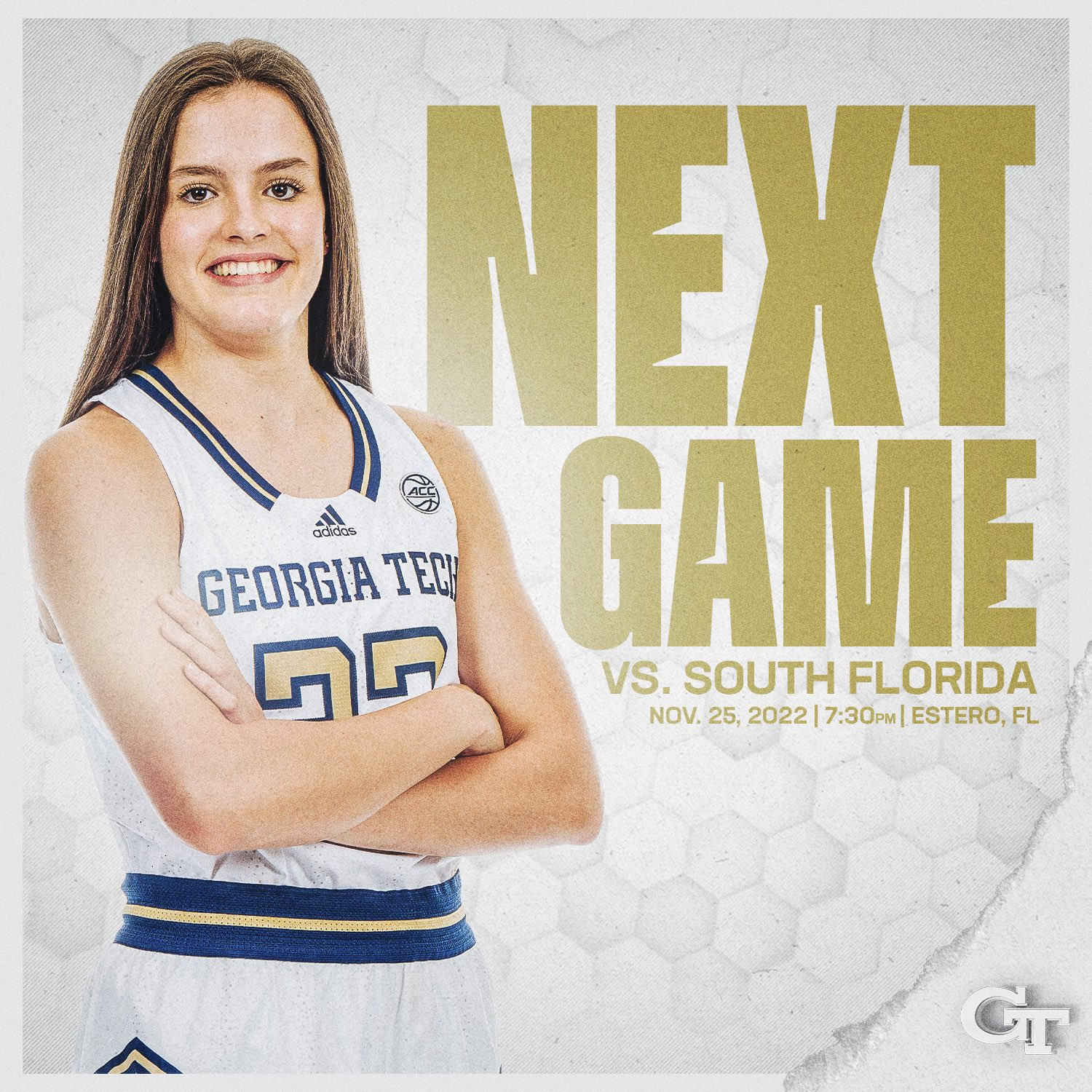 Georgia Tech leads a 3-1 record into the tournament after losing their first game of the season to Georgia last weekend. In the second straight game, the Yellow Jackets fell in rebound fighting and gave up 20 offensive boards. Georgia hit 45.2 percent from field, becoming the first opponent to shoot more than 30.0 percent this season. Cameron Swartz continues to lead Georgia Tech in offense, scoring her fourth game in double figures with a team-high 15 points against the Lady Bulldogs. During the season, Swartz averages 16.0 points per game. Nerea Hermosa leads Tech on the glass with an average of 6.8 rebounds per game.
South Florida played its sixth game of the season on Tuesday night, clinching a comfortable 75-57 win over New Hampshire to go 6-0 this season. Playing just a game away from their home court, the Bulls picked up a narrow win at TCU on Nov. 20. Four players are averaging double-digit scores to lead the Sammie Puisis-led USF at 16.5 points per game. Dulcy Fankam Mendjiadeu follows closely with 16.0 points and leads on the glass with 9.3 rebounds per game.
Georgia Tech and USF have met on the hardwood five times in program history since 1983, but have not met since 1990. Tech leads the series 5-0, including a 2-0 lead in neutral site games.
competition initiative
In a joint effort, Georgia Tech, the Georgia Tech Foundation, Georgia Tech Athletics and the Alexander-Tharpe Fund have joined forces to accelerate scholarship funding for students and athletes with the launch of the Competitive Drive Initiative. The initiative begins with the Accelerate GT Match Program, where every new donation to AT Fund's Athletic Scholarship Fund made through December 31 will be matched dollar for dollar by the Georgia Tech Foundation up to $2.5 million . Should Accelerate GT reach its fundraising goal of $2.5 million, the gift would result in a $5 million impact to Georgia Tech Athletics. To learn more and contribute online, visit atfund.org/accelerate.
For the latest information on the Georgia Tech Yellow Jackets, follow us on Twitter (@GTWBB), Instagram (GTWBB), Facebook (Georgia Tech Women's Basketball) or visit us at www.ramblinwreck.com.