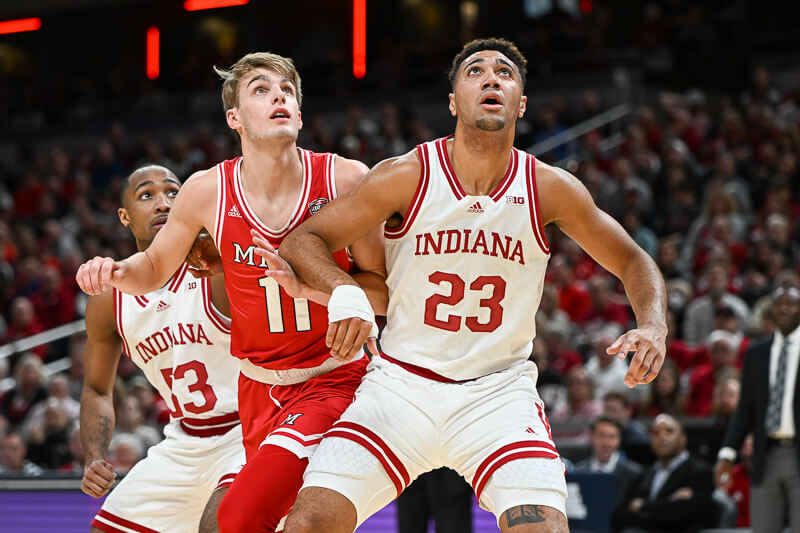 Thoughts on an 86-56 win over the Redhawks:
After the win against Xavier on Friday evening, the predictable hangover came immediately.
Without the size, strength, or talent to take on Indiana, Travis Steele and the Redhawks packed the paint to try to take Indiana's dominance inside. It left the Hoosiers with wide open eyes from the perimeter. Xavier Johnson hit two long 2s early but Indiana's shooting went cold. And since it didn't take much ball movement or work to get those open shots, the offense looked flat and stagnant with every missed shot.
Indiana only managed an 11-10 lead almost halfway through the first half (11:16). How did the Hoosiers get out of this, finally gain some momentum and hold their own? They turned defense into offense and used their emerging switching game to overwhelm the Redhawks. All of these goals came from either Miami turnovers or in the transition to close out the first half: Jalen Hood-Schifino's pull-up 3 pointer, Malik Reneau's bucket near the basket, Tamar Bates' alley-oop finish, Trayce Jackson-Davis' Lay -up and-1 and Miller Kopp's corner 3-pointer.
Additionally, Jackson-Davis continued to play his hyper-efficient, no-nonsense man-on-boys game, scoring 13 points on 5-of-6 shooting and amassing 10 rebounds in the first half alone.
Add it all up and after the slow start, Indiana opened up a 43-26 lead at the break and never looked back.
Jalen Hood-Schfino shot just 1 of 9 against the Musketeers on Friday night and missed his first three shots tonight. But he started to find his rhythm when it dragged, eventually making five of his next nine shots to finish the contest with 5 of 12 for 12 points. He was Indiana's second-leading scorer after Jackson-Davis (17). Miller Kopp hit 2-of-5 from deep. He also showed he could counter the defense closing in on him by running a bucket to the rim after a fake shot. He finished with 10 points.
Xavier Johnson's numbers won't impress you (seven points, five rebounds, four assists), but he had just one turnover in 25 minutes tonight and was in control. Malik Reneau continues to advocate for being a big part of the rotation. Not only did Reneau score 10 points in 5-of-7 shooting, but he had some nice passes tonight – both down the field and in the lead – and amassed three assists. CJ Gunn played hard on defense and got away with two steals for his efforts. He scored five points on 2-of-7 shooting and showed confidence in his shot even when it didn't fall.
Jordan Geronimo had an insane five blocks in 19 minutes. He was one of the reasons the Hoosiers held the Redhawks to just .79 points per possession.
While the competition won't push Indiana through the rest of the week, the schedule isn't slowing down. Indiana meets Little Rock on Wednesday with a quick turnaround against Jackson State on Friday. Expect more of the same, especially when they're jammed in around Thanksgiving. Indiana will be the clear and overwhelming favorite, but the game won't always be top notch.
"It's set up like a tournament, which I think is good for us," said Mike Woodson after the game over Indiana's stretch of four games in eight days.
That fourth game will be played on November 30 against the Tar Heels, the next real test for these Hoosiers.
Filed by: Miami Ohio Redhawks