No. 12 Indiana (4-0) overcame a slow start Sunday night against Miami (OH), ending the first half with an 11-0 scoring run and finally beating the Redhawks 86-56 at Gainbridge Fieldhouse in Indianapolis.
Indiana Star senior forward Trayce Jackson Davis was dominant in the 25 minutes he played, finishing with a team-high 17 points, 16 rebounds (6 offense), three assists and a block. Freshman Guard Jalen Hood-Schifino found his shooting shot after battling Xavier, scoring 12 points on 5-of-12 shooting and adding five rebounds and two assists in 21 minutes. Sophomore Guard Tamar Bates scored seven points while senior guard Xavier Johnson scored seven points, five rebounds and four assists.
Julian Lewis led the Redhawks with 12 points on 4-of-10 shooting, seven rebounds and four assists in 31 minutes. BillySmith added eight points, including a pair of 3-point marks while Mechi Larry finished with 12 points.
If there were questions about a lingering hangover for Indiana following Friday night's away win over Xavier, those worries may have been confirmed in the first 15 minutes before IU really got the better of Miami. From kickoff until about the 4:34 mark of the first half, the Hoosiers played like a team playing down to the level of the competition.
Indiana really struggled to find his offensive rhythm early on, shooting just 4 of 17 from the field and 0 of 6 from the arc at the under 12 minute timeout. During this period, only Jackson-Davis and Johnson found their names in the ratings column. The game's tedious start allowed Miami to maintain a 12-11 lead with 11:01 at halftime, but it wouldn't last long as Indiana began to find its groove.
A pair of 3-pointers from Hood-Schifino and Bates on back-to-back possessions put IU back five points, a lead the Hoosiers wouldn't give up for the rest of the game. After a 3-pointer from Miami Ryan Marbrey (7 points), which reduced the gap to just 21:20, Indiana soon got into full swing.
The single-digit lead didn't last until half-time as IU went on an 11-0 goal streak in the final 2 minutes and 27 seconds of the first half. within this distance, Indiana Senior Forward Mueller Kopp (10 points) pocketed his first 3-pointer of the night while Jackson-Davis and Bates each pocketed a pair of free throws.
The Hoosiers' energetic goal run gave them a 43-26 lead at the break and they wouldn't look back for the last 20 minutes.
IU's growing lead allowed him to rest most of his key players for the remaining 10 minutes of the game, allowing valuable experience and playing time for several younger players at the end of Indiana's bench. Particularly, freshman guard CJ Gunn played a career-high 18 minutes – sophomore guard Trey Galloway was unavailable through injury — and put up some good defenses while scoring five points.
Also off the bench, freshman forward Malik Renau scored an efficient 10 points on 5-of-7 shooting while notching four rebounds and three assists. Junior forward Jordan Geronimo finished with six points and four rebounds in 19 minutes and freshman forward Caleb Banks made his lone 3-point attempt.
Overall, Indiana emerged from the game with a clean record of health and a win that was never really in jeopardy for most of the game. Of course, the sluggish starts are something IU hopes won't become a trend, but the Hoosiers' seemingly able to hold their own at will boded well.
With the win, Indiana improves to a 4-0 lead in the season. Next, the Hoosiers return to Bloomington on Wednesday night to host Little Rock in Game 2 of the Hoosier Classic.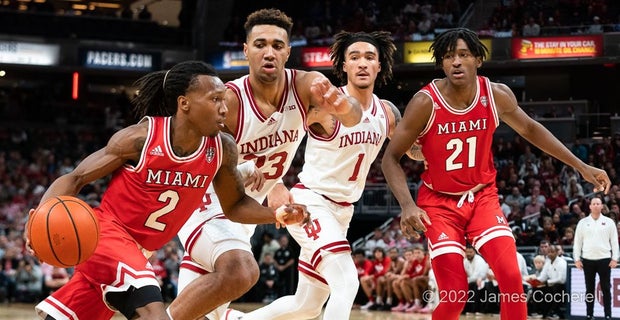 Key games and stretches:
1H: 12:13 – Eli Yofan 3 hands (Miami leads 10-9)
1H: 10:05 – Tamar Bates + Jalen Hood-Schifino Back to back 3 hands (IU leads 17-12)
1H: 5:45 – Trayce Jackson-Davis Layup and -1 -> IU on a 7-0 scoring run (IU leads 28-20)
1H: 0:46 – Miller Kopp 3 hands (IU leads 41-26)
1H: 0:00 – Indiana ends the half with an 11-0 goal run (IU leads 43-26)
HALFTIME – Indiana leads 43-26
2H: 16:58 – Muller Kopp 3 hands (IU leads 51-29)
2H: 13:21 – Xavier Johnson 2-2 FTs –> IU on a 14-4 scoring run (IU leads 59-33)
2H: 7:22 – CJ Gunn 3 hands (IU leads 70-44)
2H: 4:59 – Caleb Banks 3 hands (IU leads 75-46)