Unreal. Absolutely unreal.
A team struggling, a team playing quarterback for the first time, a quarterback that was once fourth string on the depth chart.
A season that seems to pass, ugly headlines galore, multiple Impact players with injuries, a seven-game losing streak.
A street game of the Big Ten. 17 points behind at half time. Can't pass the ball, not really trying to pass the ball.
And Indiana does that? For real? Such a comeback?
Wow.
"It goes back to never lying down," said IU quarterback Dexter Williams after leading the Hoosiers with 25 unanswered points on the road Saturday afternoon to beat Michigan State 39-31 in double overtime.
"I told these guys last week, whoever we're playing, don't lie down for anybody. give them what you have Make her feel, and the rest will take care of itself.
"I mean, things aren't going the way we wanted, but we just got a 'W' so now it's time to get another one."
At the start of the game, Indiana was 0-3 since 2003 when they were down by 17 points or more at halftime. IU was down 24-7 at halftime on Saturday at Spartan Stadium.
The Hoosiers later trailed 6-17 with 31-14 to play in the third quarter.
game over, right?
Not this time.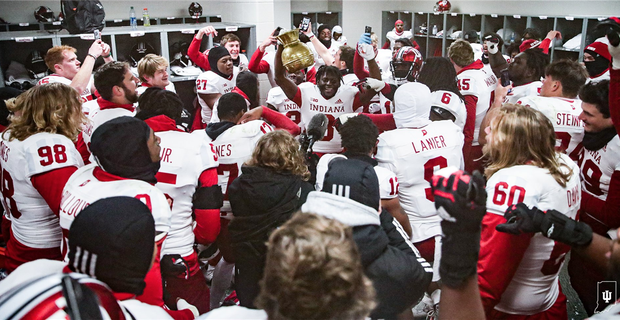 Indiana's defense kept the Spartans to just seven points in the second half and two overtimes.
Jaylin Lucas returned a kickoff 88 yards for a touchdown. Jonathan Haynes finished off Payton Thorne. Charles Campbell hit a 40-yard field goal in wintry conditions.
IU put together a nine-play 70-yard drive and Josh Henderson hammered it home to play the game at 31 with 12:59.
The Hoosiers are right there.
"Just being resilient," said Williams, who was making his first career start at quarterback. "I'm resilient again. This team was very resilient. These guys never gave up.
"They gave me everything they had and I really appreciate this team. I wouldn't have made it without this team."
The Hoosiers managed without passing the ball, well, without passing the ball much.
Williams ran 16 times for 86 yards and a touchdown. He was only 2-for-7 passing for 31 yards.
Shaun Shivers had 115 rushing yards on 13 carries, including a 79-yard touchdown run.
Indiana rushed for 257 yards and averaged 5.8 yards per carry.
Michigan State had 298 passing yards versus Indiana's 31 passing yards.
Williams had a 24-yard pass to the tight end of AJ Barner in the first game of the second overtime, who scored the game win. He then threw for the two-point call to put the Hoosiers at 39-31.
Indiana went through a wild stretch to get to the second overtime.
Michigan State missed a field goal on time that would have led the Hoosiers to a heartbreaking loss. In the first overtime, both teams blocked field goals.
The overcall context also matters.
After reaching two of the program's three bowl games in January in school history after the 2019 and 2020 seasons, injuries and a host of problems dropped the Hoosiers to 2-10 last year.
They started this year 0-3 and then lost seven in a row. Most of the recent headlines have revolved around the losing streak, but a closer look is also revealing. In six of Indiana's eight Big Ten games, the Hoosiers either led, tied, or went without a touchdown early in the fourth quarter, with No. 2 Ohio State and No. 11 Penn State being the exceptions.
Even though Indiana was on a seven-game losing streak, multiple wins had actually been within reach.
This time, the Hoosiers found a way to snag one.
"I actually feel good because I think the most important thing was just everybody going along, everybody believing," Shivers said. "Everyone bought. Everyone believed.
"We were down what 24-7? Then when everyone went into the dressing room, we thought, 'We still have this. Do not give up.' That's one thing, we're talking about fighting to the end. We did that and we came out with a convincing result."